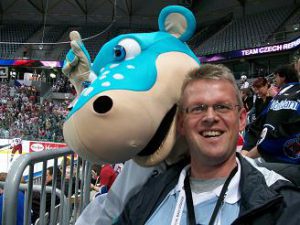 Allgemeines:
Jahrgang:  1963
Geburtsort: Straubing
Haare:   grau-blond
Augen:  blau
Sprachen: Englisch (sehr gut), Spanisch, Französisch, Russisch
Dialekt: Niederbayerisch
Sport: Eishockey, Tennis, Fitness Club
Verheiratet, 3 Kinder
Führerschein: Klasse 3
Beruf
Seit 1999: Firma Linde AG, als Controller
1991 – 1998: Stadtwerke München (Einkauf und Kostenrechnung)
Ausbildung
1991 Abschluss als Diplom-Kaufmann   an der Universität  Regensburg
1987-1988  Auslandsstudium Vanderbilt University, Nashville, TN, USA
1983 Abitur am Ludwigsgymnasium Straubing
Erfahrungen
Seit 2016        Mitglied beim Bundesverband junger Autoren und Autorinnen e.V. (BVjA)
2017                Volunteer bei der Eishockey Weltmeisterschaft in Deutschland, Standort Lanxess Arena in Köln, Funktion Presse & Medien
2010                Volunteer bei der Eishockey Weltmeisterschaft in Deutschland, Standort SAP Arena Mannheim,       Funktion Presse & Medien
Seit 2009   Konzeption und Publikation von Sachberichten für die firmeninterne Mitarbeiterzeitschrift
Als freier Autor gestalte ich Ihren Ideenschatz bis hin zum fertigen Text.
Mit guten Inputs von Ihnen hin zu einem gelungenen finalen Werk.
Füttern Sie mich mit Ihren Stichworten und überlassen Sie mir die textliche Gestaltung!
Geben Sie mir ihre Stichpunkte – ich konzipiere den entsprechenden Text dazu!
Ihr Brainstorming – mein Brainwriting  plus finaler Textvorschlag.
Kompetenz und Empathie für ein gelungenes Werk!
This is a brief summary about me:
Hello, my name is Hermann – I live in Bavaria, respectively north of Munich in a small village close to Freising. I am married and I have got 3 lovely children. I currently work at Linde AG and I am in charge of cost controlling there. My hobbies consist of  playing tennis and passionately watching thrilling ice hockey games of my home city Straubing whose Tigers happened to be a serious opponent for every team.
Above all, I have a sound predilection for writing articles and travel reports.  This faible needs to be even fostered through this special tool of blogging. Anyway, I look forward to getting in touch with lots of interesting people eager to share my interests.
My objective is as follows:
I shall create articles from your ideas.
Just provide your valuable input and I will transform it to a sound piece of written art.
Your brainstorming will turn into my brainwriting and end up in an interesting article.